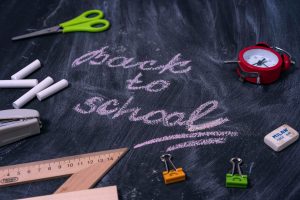 As summer winds down this August, the school year is just revving up! We're looking forward to welcoming back our students for another year of learning. While our students are usually just as excited to go back to school, from missing out on Open House to summer sleep schedule slumps, many are underprepared. We're here to help you with this! From Walton Academy, one of the top private schools Greenville NC, here are three ways you can prepare your child for their first day of school.
Attend Open House
Like public schools, most private schools Greenville NC will host an "Open House." Usually held on an evening a week or two before class starts, the school opens its doors for a tour of the school and a chance to talk with your children's new teachers. Print out your child's schedule and walk the exact path they'll take to get from class to class with them. This will help them to be less likely to get lost on the first day. If your child has any special physical, mental, or dietary needs, this is also a good time to talk with the teacher about them. While you're in the room, be sure to walk around and take in any information the teacher has on display about the class. In addition to learning about the school and teachers, Open House can be a great social opportunity. If you stick around, your child could make a new friend or two!
Give Them The Tools To Succeed
In addition to attending Open House, take the time to look through your child's syllabi. With a new grade often comes new materials. These may include things like protractors, calculators, and possibly personal laptops or tablets. As the weeks go on, private schools Greenville NC may be less forgiving when it comes to showing up to class empty-handed, so make sure you're setting your child up for success. If you're able, be sure to check out any wishlist items your child's teacher may have listed on the syllabus. While these new items may feel like an unnecessary added expense, your child's education is worth it!
Run The Routine
The week before school, start making changes to your children's routines. This means setting bedtimes earlier and earlier until they gradually get closer to the bedtime you'll need them to have during the school year. To help with this, try cutting back on sleep-dysregulating foods and encourage physical activity before dinner. Studies have shown that moderate exercise no later than two hours before bedtime can help increase sleep quality. By getting to bed, your children will be much easier to wake up for the real thing! If you take your children to private schools Greenville NC, try driving the route you'll take with them before school begins around the time you'd need to leave. By doing this, you can familiarize yourself with the route and determine what traffic might be like the day of. By being prepared and getting down a routine, you and your child can spend less time stressing and more time enjoying those milestones.
The first day of school should be exciting, not stressful. If you follow these tips and tricks, you should be set! At Walton Academy, we believe every child has the ability to succeed. Our board-certified teachers have years of experience in both public and private schools and will work to meet every child's specific learning style and needs. If you're looking for quality education in private schools Greenville NC, Walton Academy should be at the top of your list. Looking for more scholastic tips and tricks? Check out our blog! We have new articles on a range of topics every month. If you're looking to experience the Greenville NC private school difference this year, contact our Greenville NC private school today!