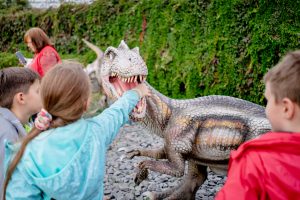 As semesters end and summer begins, students and parents alike may be ready to celebrate. Your children have worked hard over the past months at our Greenville NC private school and deserve a break! However, one thing to keep in mind is the unfortunate fact that over summer, many children lose a lot of what they've learned. This can be frustrating for parents, teachers, and children alike. Your child may even suffer from boredom which often resorts to spending too much time on their phones, leading to short attention spans, a common classroom issue. This doesn't have to happen! Here are five educational ways to entertain your children this summer.
Board Games
Often thought of as out-of-touch and overlooked in favor of their digital cousins, board games can in fact be educational and fun! When playing board games, your child not only needs to be able to memorize many rules, but they'll also need to engage their hippocampus and developing prefrontal cortex, areas of the brain that handle memory and critical thinking. Since board games need multiple individuals to play, board games will also give your child a chance to boost their social skills. Classic go-to games like Sorry, Clue, and Battleship are great picks. However, newer options including Quirkle, Bananagrams, and Robot Turtles are quickly becoming fan favorites as well.
Arts and Crafts
Like board games, crafts can sometimes be cast to the wayside in favor of something STEM-related. However, at Walton Academy, one of the top private schools in Greenville NC, we believe that urging your kids to be creative can be rewarding. Presenting your child with time to create and allowing them to freely express themselves, often boost confidence. Crafting can also have healing properties. In today's world, kids are more stressed than ever before. Setting aside time to be creative without any expectations or grades can give them time to melt this stress away.
Museums
North Carolina summers are warm, sometimes too warm! Taking a trip to a museum is a great way to beat the heat while learning about art and science. Oftentimes museums have games set up for children to play with staff, so if you're not able to keep up with their energy, you can relax while knowing your kids are in good hands. If you're up for a day trip, the Triangle area boasts several great museums. For Raleigh, our Greenville NC private school recommends Marbles Kids Museum and the North Carolina Museum of Natural Sciences. The latter is great if your child is into dinosaurs as they have the largest collection of bones in eastern NC! If you'd like to keep it closer to home, the Greenville Museum of Art and Go Science are downtown destinations.
Book Clubs
If your child loves to read, a book club may seem overkill. However, many children who love reading can be quiet, and therefore may have difficulty making friends-especially ones who share their love of literature! Attending in-person or virtual book clubs provides a chance to not only keep their reading skills sharp but their social skills as well. Book clubs often choose critically acclaimed or classic works that can come up in our Greenville NC private school curriculum. Already having read a book that may be assigned later at school can keep your child ahead of the game!
Sports
You may be thinking, "but sports has nothing to do with academics!" However, you couldn't be more wrong. Like board games, playing a sport requires strategy. Studies have shown that playing sports increases memory, concentration, and problem-solving. Your child is using the same parts of their brain when shooting hoops as they are when working mathematical equations! Whether team sports or something solo, our Greenville NC private school believes having your child get regular exercise is imperative to keeping up their cognitive functions strong over the summer.
Walton Academy | Greenville NC Private School
Looking for more educational ways to entertain your child this summer? Be on the lookout for our blogs! Summer may be just starting, but it's never too early to start thinking about your child's education. Walton Academy, one of the top private schools in Greenville NC, can give your child the building blocks for a better future. Call today or visit our site to learn more about why our Greenville NC private school may be the perfect place for your child.