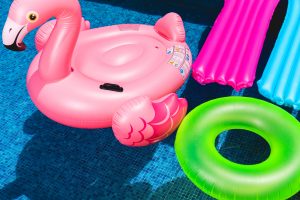 With school out for the summer, your kids are likely dealing with some boredom around the house. You may have tried planning some time at the park, or even signed them up for summer camps. However, sometimes it's simply too hot to do much outdoors-unless it involves a pool, that is! Although cooling off by the pool doesn't necessarily warrant a pop quiz, Walton Academy, one of the top private schools Greenville NC, believes it's never a bad idea to throw in some educational material when you can. Check out these three educational pool games to boost your children's brain activity while beating the heat this summer.
Swimming Pool Scramble
Using cheap yellow or light-colored sponges, write different letters on their surfaces with a water-proof marker. Throw these sponges into the pool and have your children jump in after them, collecting as many as they can. Once collected, see how many words they can make. You can also try giving them the letters to a word, or having a list of words for them to make with a select few of the sponges. Walton Academy, one of the premier private schools Greenville NC, believes healthy competition can be fun! If you have a large group, try making it into a relay game where two teams compete to see who can knock out the list first.
Ping Pong Problems
Using a waterproof marker, write a number one through nine on a handful of plain ping pong balls. Throw them into the pool and have your kids split up to collect them, putting them into a bag or basket. After adding all the numbers up, whoever has the largest sum wins the game! Depending on the ages and math levels of your children, you can make this game more challenging by writing equations on each ball and adding a time limit. If you're unsure where your child's skills lie or where our school, one of the top private schools Greenville NC, is in our curriculum, reach out and we'll be glad to give you a rundown!
Sight Reading Dive
If your children love diving or exploring the bottom of the pool floor, they'll love this game. With a waterproof marker, write your preferred words on diving sticks (you can get these at most dollar stores in the summer) and wrap them in packing tape. Our academy, one of the best private schools Greenville NC, suggests this method so that the ink doesn't run. This way, you won't have to explain to your children that you can't read the words either! When your child submerges with the stick, have them read the word to you. You can make this game more challenging by writing words that can make up sentences. For larger groups or parties, you can even split kids up into teams and add a timer. Whoever makes a sentence first wins!
This summer, make time at the pool fun and educational. We hope these games have jogged your brain with ideas on what to do with your kids on pool days. Don't have a pool? Look into local pools like Greenville Outdoors Aquatics Center. Looking for more tips and tricks regarding education? Check out more from our blog! At Walton Academy, one of the top private schools Greenville NC, we're constantly thinking of new ways to make learning fun. Ready to enroll your child in the best educational institute in Pitt County? Call today or visit our site to learn more about why our Greenville NC private school is the perfect choice for your child.